Iveagh Gardens
Designed by Ninian Niven in 1865, but with a history dating back over three hundred years, the Iveagh Gardens are located close to St Stephen's Green Park in Dublin city centre.
From modest beginnings as an earl's lawn, the gardens went on to host the splendour of the Dublin Exhibition Palace in 1865. Many of the original landscape features are still in place, or have been restored and conserved since 1995. These include the yew maze, the rosarium, and the fountains. The cascade in particular is a stunning spectacle in summer. Iveagh Gardens are popularly known as Dublin's 'Secret Garden'.
Please download the Code of Conduct for Dog Owners at this link.
Please note the use of drones is NOT permitted in Iveagh Gardens.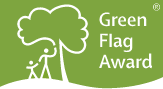 Iveagh Gardens has been awarded a Green flag 2022-2023 which is an international bench marking standard for parks and green spaces. More information from greenflagaward.org
Full captions and copyright information for all images can be found in the Galleries. If you would like to use any of the images you see on this website, please contact us.
Any links to external content on this website are there for reference purposes, and do not imply endorsement.